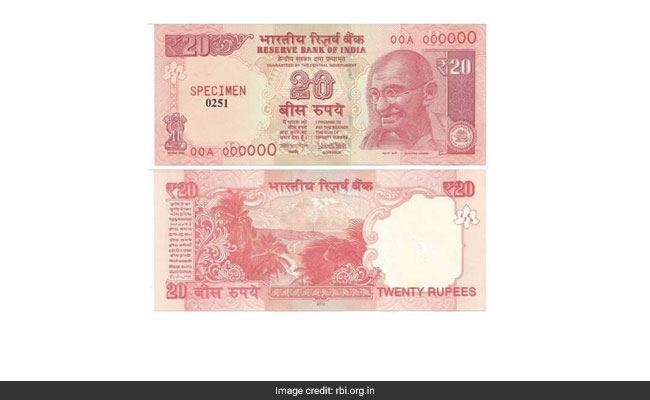 Reserve Bank of India has said it will shortly issue Rs. 20 banknotes in the Mahatma Gandhi Series. The new Rs. 20 notes have the inset letter 'S' in both the number panels and the signature of RBI Governor Urjit Patel, the central bank said. "All the banknotes in the denomination of Rs. 20 issued by the Bank in the past will continue to be legal tender," the Reserve Bank of India said in a notification dated July 19, 2017.
Here are 10 things to know about the new Rs. 20 notes:
The design of Rs. 20 banknotes will be similar in all aspects to the same series issued earlier, the RBI said.
Ascending font: In the Rs. 20 notes, the numerals in both the number panels will be in ascending size from left to right with the first three alpha-numeric characters (prefix) in constant size.
The Rs. 20 note comes with offset printing instead of intaglio printing in earlier versions.
"The numeral '20', RBI seal, Mahatma Gandhi's portrait, RBI legend, Guarantee and promise clause, Governor's signature, Ashoka Pillar emblem which were hitherto printed in intaglio (raised printing) are now being printed in offset (without any raised printing)," according to the central bank.
While there is no change in the colour at the reverse, the colour at the obverse is lighter due to removal of intaglio printing.
In 2016, the RBI had issued the new Rs. 20 notes of the Mahatma Gandhi Series-2005.
Starting 2016, the new Rs. 20 note comes without a latent image showing the denominational numeral in the vertical band on the right side of Mahatma Gandhi's portrait.
In earlier Rs. 20 avatars, this image was visible only when the banknote was held horizontally at eye level. "This feature is no longer present," the RBI had said in a press release dated September 15, 2016.
The Rs. 20 note will have the year of printing on the reverse side.
There is no change in the reverse of the banknote.