When you ask what is the best iPad in 2018, there are a lot of answers we can give you because Apple now makes a munch of different top-ranked tablets.
Our iPad recommendation really depends on the features you need and the price you want to pay. You can buy a cheap iPad that's capable of almost everything, or spring for a full-featured iPad Pro that costs three times as much, but that does everything Apple has invented so far.  
Here's the basic breakdown: the iPad Pro, the most powerful Apple tablet on sale, and comes in two sizes: the massive iPad Pro 12.9 and iPad Pro 10.5. Both are expensive compared to the once-normal iPad price tag. These launched over year ago, and while there are iPad Pro 2018 rumors, nothing has materialized.
Need a cheap iPad? It's very affordable to get the New iPad 2018 that launched earlier this year. It's the best way to get an entry-level Apple tablet – now with Apple Pencil support. It's a way better value for the average consumer and students who wants the basics a 9.7-inch screen that will be capable of running iOS 12.
Believe it or not, the iPad Air 2, also a 9.7-inch tablet, remains popular, even though Apple isn't selling it directly anymore. And the aging iPad mini 4 (launched way back in 2015) is still your cheapest option, but its days are surely numbered.
Whatever the case, there's an iPad for you and they all run iOS 12. We created a best iPad 2018 list to help narrow down Apple's top tablet choices for you.
Let's begin with a video overview of the best iPads
For everyone else, you'll find a rundown of all the readily available iPads below, including the brand new iPad (2018) and second-generation iPad Pro duo.
These come complete with full spec lists, their good and bad points and a look at what makes them tick, so you can make an informed purchase decision.
Want more tablet options?

The iPad Pro 10.5-inch version is Apple's all-star tablet with a slightly bigger screen than you're used to on previous iPads and less bezel on the sides. Its bright Retina HD screen is its best selling point. Even after more than a year, it's still our top pick, balancing price, portability, and features.
The new ProMotion screen adds an impressive layer of fluidity to daily use – if not strictly necessary – and the smaller bezels means you're getting far more display in a footprint not much bigger than 2016's 9.7. It's an iPad for the professionals – but also one that media munchers will adore using.
It's Apple's flagship tablet, one that takes advantage of the Apple Pencil and several tablet-focused iOS 12 features like the new dock, Control Center and Instant Markup with the stylus. If you invest in the recommended Smart Keyboard, you can attach it to a Pro-level iPad without jumping through all of the hoops of Bluetooth.
It's a tough decision over whether the new iPad Pro is the best iPad or if the basic iPad is the better choice for its value proposition. If you have enough money, it's this one. 
Read the full review: iPad Pro 10.5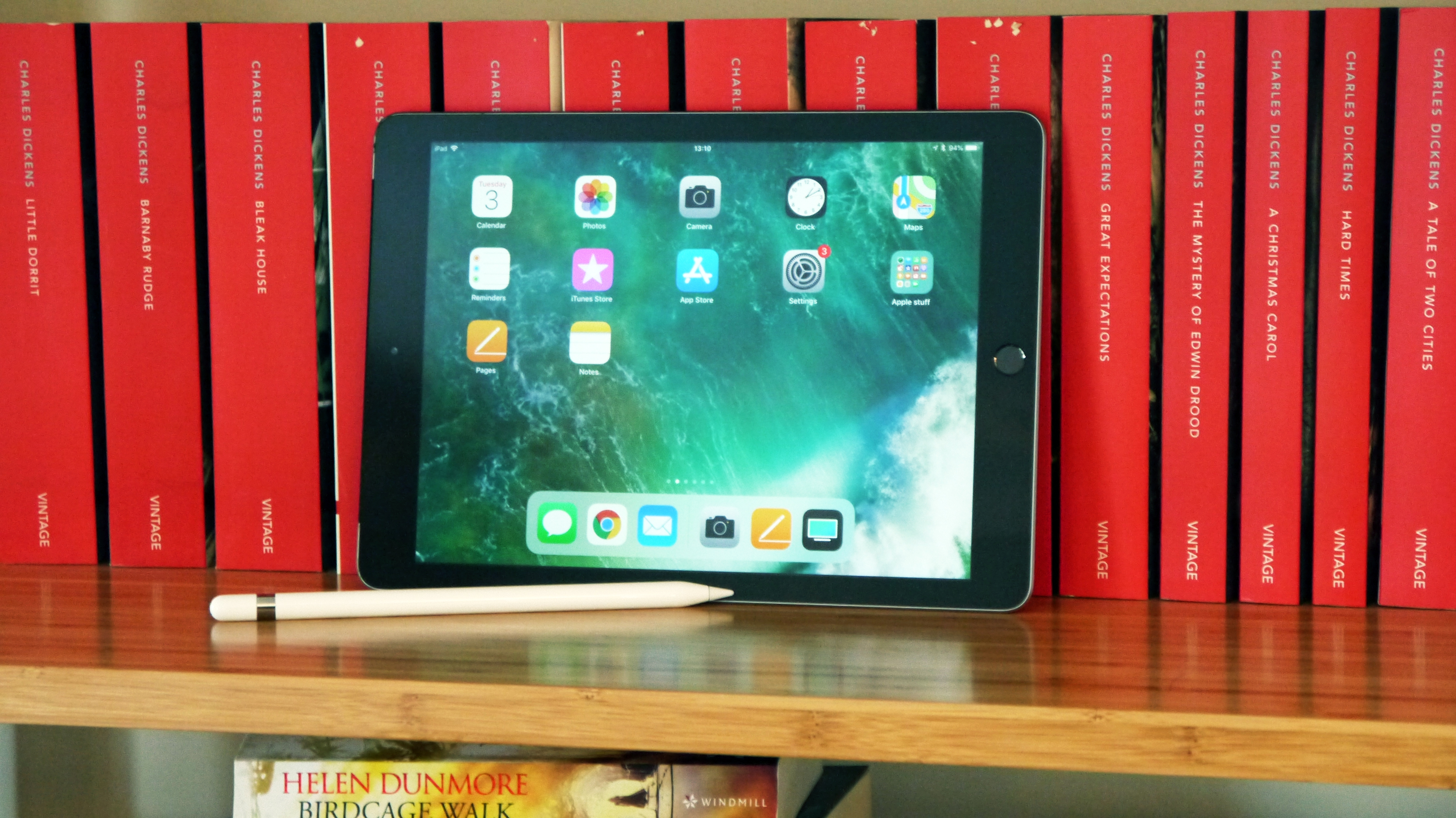 This is the best Apple iPad for the average consumer and for education, even if it still isn't the most powerful one on sale. It's simply a great value. The new iPad (2018) replaces the very similar 2017 model and, before that, the iPad Air 2 in Apple's lineup, slotting in below the Pro range.
It works with the Apple Pencil, offering you the cheapest way to doodle on the 9.7-inch glass, though you can't get the Smart Keyboard with this non-Pro model. It also has the same luxurious metal unibody as the rest of Apple's iPad range, though notably it's ever-so-slightly thicker than the iPad Air 2 or iPad Pro at 7.5mm.
With the Touch ID fingerprint sensor included, iOS 12 under the hood and up to 10 hours of battery life when web browsing or watching videos, the new iPad (2017) is a great media player and a strong tablet choice if you're not planning to use it heavily for productivity.
Read the full review: iPad (2018)

We really like the iPad Pro for its large size and it's the closest thing we have to a 2-in-1 touchscreen MacBook. It just happens to run iOS 12 instead of macOS. 
It's the best productivity and entertainment tablet around thanks to its 12.9-inch screen, four speakers and the iOS 12 dock and multitasking interface. Apple has redesigned its Control Center interface to make app switching even easier, and this tablet is compatible with the Apple Pencil and Smart Keyboard.
It's biggest weakness? The iPad Pro 12.9-inch price, and the size isn't a good fit for everyone. But If you can afford it and want the largest-sized iPad available, you're going to love this – it's a laptop-replacement for a lot people out there.
Read the full iPad Pro 12.9 (2017)

For the average user the iPad Pro 9.7 (2016) is one of the best all-round options. The 9.7-inch screen strikes a great balance between being big enough to get far more out of than a phone screen and small enough to still be fairly portable.
And although Apple has ditched the Air moniker, at 240 x 169.5 x 6.1mm and 437g the iPad Pro 9.7 is every bit as thin and light as the iPad Air 2.
But it lives up to the Pro name, with plenty of power afforded by its A9X chipset and 2GB of RAM, four speakers for serious media potential, a beautiful True Tone screen, which adapts the color and intensity to your environment, and of course the ability to use the Smart Keyboard and Apple Pencil with it, if you want to use the slate to actually get things done.
The iPad Pro 9.7 (2016) also comes with up to 256GB of storage if you're prepared to pay, so you needn't feel limited by the lack of a microSD card slot, and it's likely to remain a powerful and versatile tablet for years to come, so while it's expensive you might not feel the need to upgrade for a long time.
Read the full review: iPad Pro 9.7 (2016)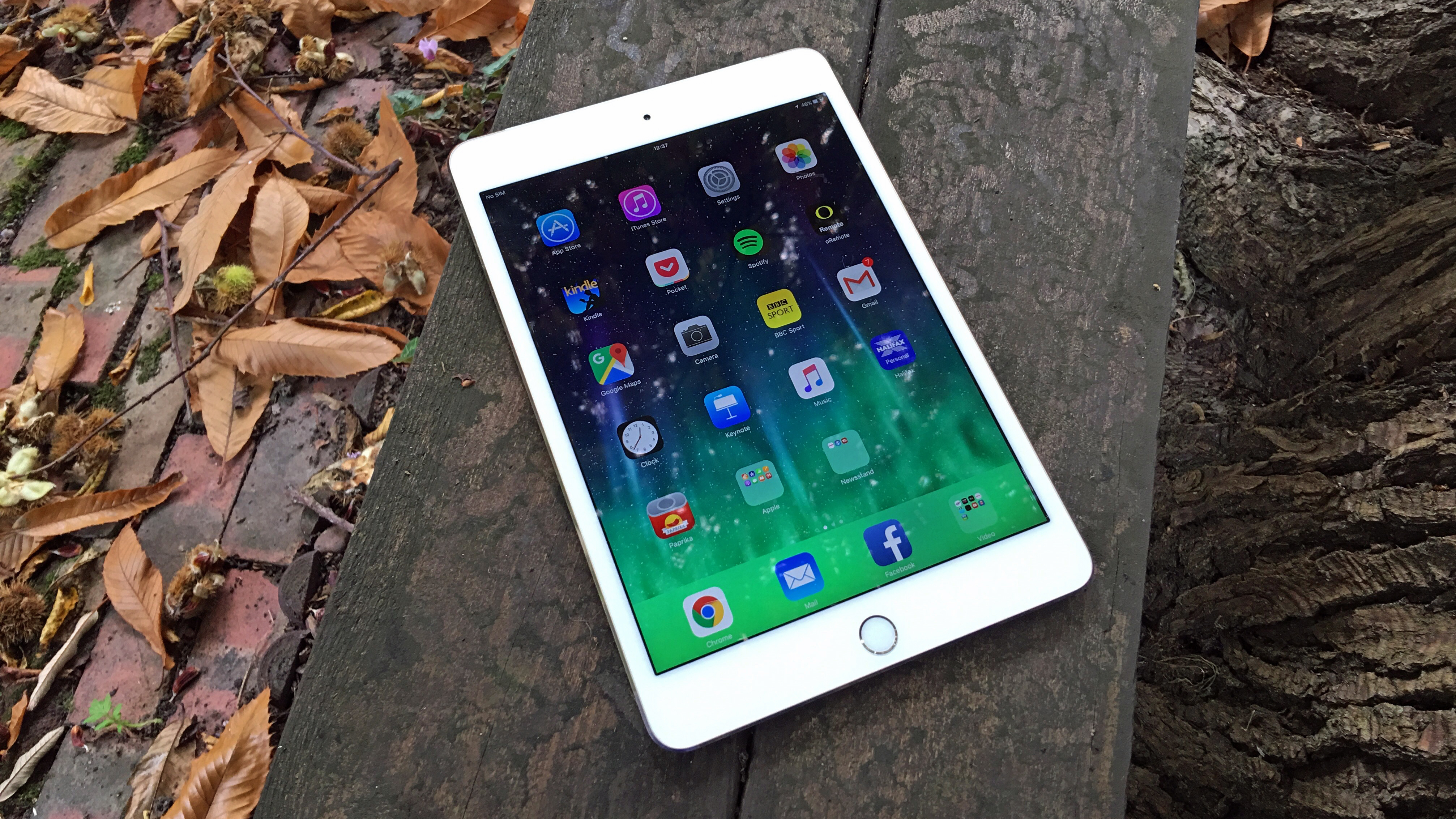 Big screens aren't for everyone, and that's where the 7.9-inch iPad Mini 4 comes in. The screen size means it's far more portable than Apple's larger tablets, especially as it's light at 299g. It's not quite small enough that you can use it one handed, but you can comfortably hold it for a lot longer than most of Apple's slates, or throw it in a bag and forget about it.
It's also big enough to enjoyably browse the net or watch videos on when you're away from home and bigger screens, but it's obviously not quite as strong an experience for most visual media as Apple's larger 9.7, 10.5 and 12.9-inch slates.
The small size and lack of Smart Connector also makes it worse for productivity than the iPad Pro range, but this isn't designed as a laptop replacement.
It's still fairly powerful thanks to 2GB of RAM and the aging but still impressive Apple A8 chip, while the screen is sharp, rich and easy to see even in bright sunlight.
The iPad Mini 4 is also a fraction of the price of Apple's Pro range, and with 128GB of storage you needn't be terribly limited in that area – though it's no match for the 256GB you can get in the iPad Pro.
Read the full review: iPad Mini 4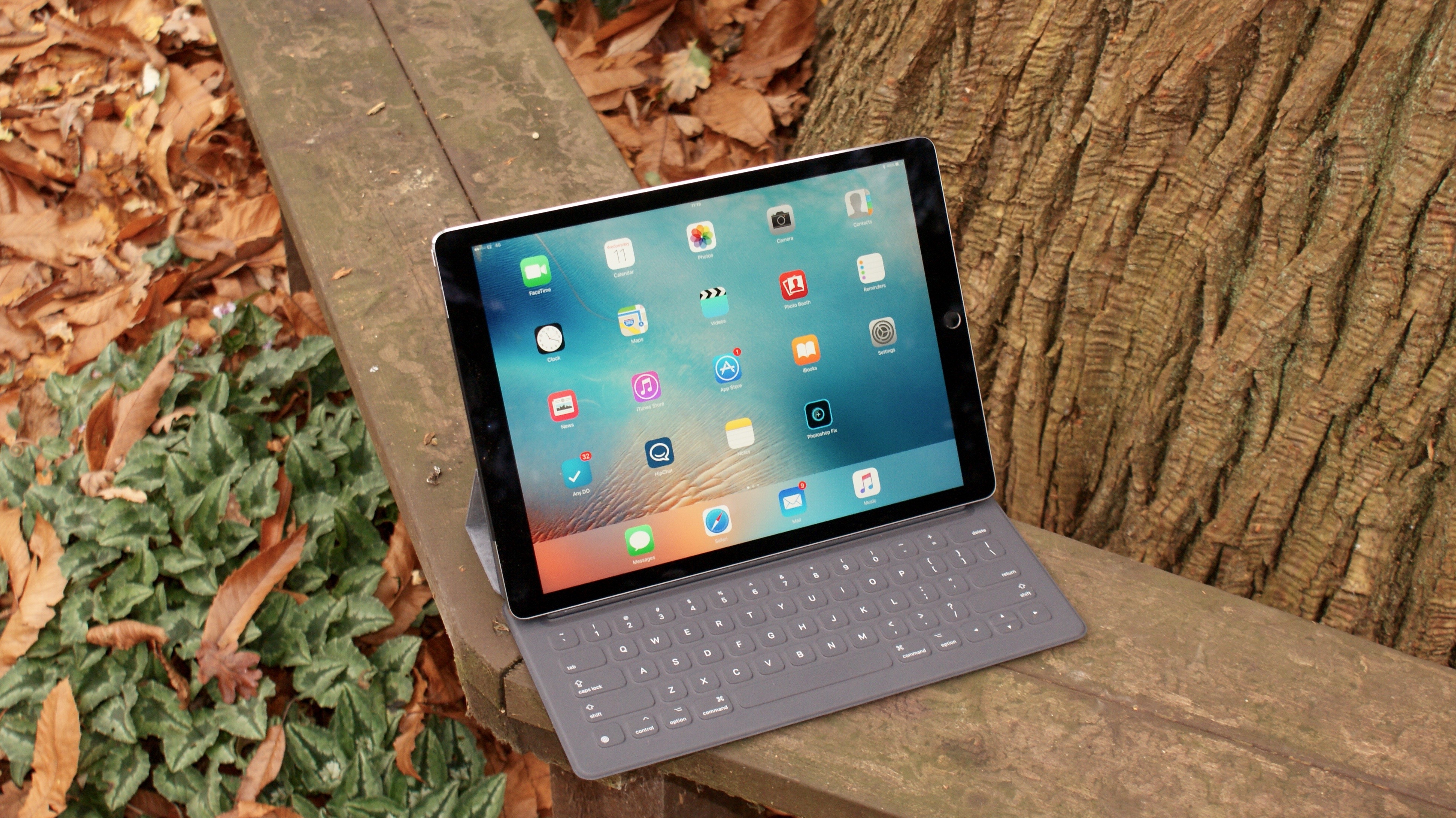 The iPad Pro 12.9 (2016), or simply the iPad Pro as it's sometimes known, is in many ways a bigger and better version of the iPad Pro 9.7 (2016).
It matches that slate's four powerful speakers, accessory options and storage capacity, but at 12.9 inches the screen is significantly larger, while its 2048 x 2732 resolution ensures it retains the same 264ppi pixel density. It's also more powerful than its smaller sibling, combining the same Apple A9X chipset with a massive 4GB of RAM.
That power is undeniably a good thing, but the screen size will be more divisive, as while all that space is great if you plan to use it as a real laptop replacement, for running apps in split screen, or for watching a lot of movies, it leaves it a little unwieldy in other ways, especially as it makes the slate a hefty 713g. If you want the ultimate in portability this isn't it.
But if you can afford the high price and want the very biggest and most powerful tablet Apple has to offer there can be no other choice than the iPad Pro 12.9.
Read the full review: iPad Pro 12.9 (2016)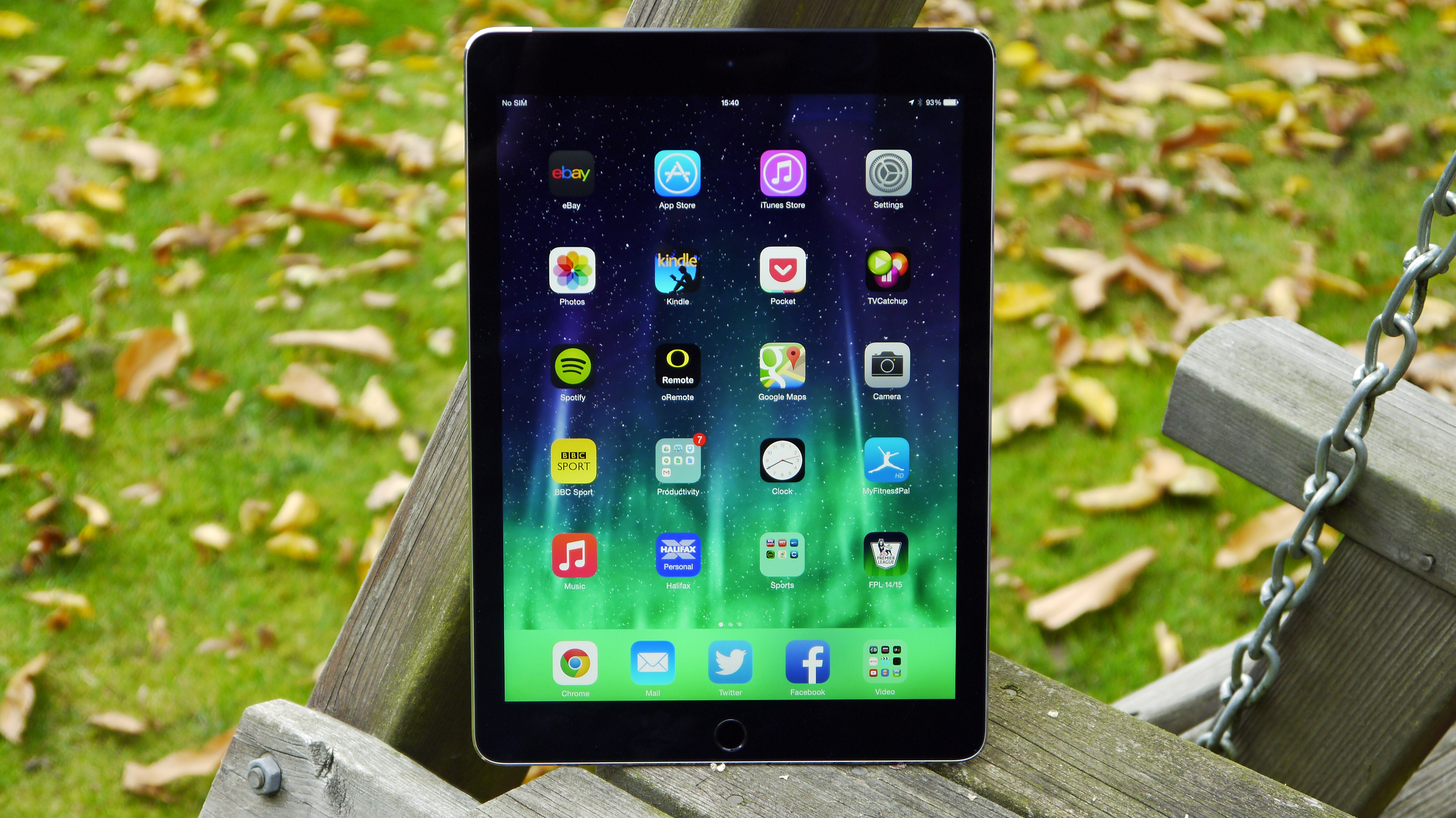 The iPad Air 2 is the predecessor to the iPad Pro 9.7 and the new iPad while it may not have the namely compatibility with the Smart Keyboard and Apple Pencil, or the latest Apple power under the hood, it's still worth considering.
It's not as strong for productivity, but in many other ways the iPad Air 2 can almost match up to the iPad Pro 9.7 and for a lower price.
For one thing it has the same premium metal body, along with the same weight and dimensions, leaving it a slim and light 6.1mm thick and 437g.
It also has the same size and resolution 9.7-inch 1536 x 2048 screen, though behind the scenes more vivid colors and the True Tone tech (for dynamically adjusted white balance) in the iPad Pro 9.7 make the display altogether more impressive.
But when the screen is already so good on the iPad Air 2 you might not miss those things, especially if you've not seen them in action.
If you don't need the productivity potential of the iPad Pro and can live with slightly dated but still solid specs, the iPad Air 2 is a strong choice.
Read the full review: iPad Air 2
source : techradar.com