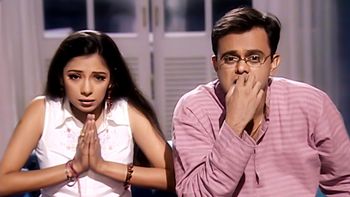 In the latest episode of Sarabhai vs Sarabhai Take 2, the Sarabhai family shows their support to Indravadhan at the exhibition. Just then Mayaspots Jasmine and scolds Rosesh for inviting her. She also makes a comment on Jasmine's cheap perfume.
They begin to greet the guests. Maya socializes with everyone in a typical Page 3 way. Rosesh and Jasmine meet 'kachcha kela' sir aka Anirudh, who is actually a poet. They get into an absolutely nonsensical poetry session, where Rosesh demeans Indravadhan by making it public that nothing has been sold in his exhibition so far.
Monisha shamelessly begins to force people to take something from the exhibition. She begins to tell them how much they have eaten and wasted, and hence, it is obligatory for them to buy some of the antiques. Maya explains to Monisha that antiques are more valuable when they are old and damaged. Monisha insists they put her pressure cooker for display as well, and tell everyone how it is from the Mohenjo Daro period. Maya tells her there were no cookers back then.